Last month we touched on how stories are on a fast path to dominating our news feeds as the primary way people share things with their friends on social media.  So, this month we thought we'd take a look at the difference between Facebook Posts and Stories, what to think about when creating them, and how getting on board with the trend will benefit your business.
Facebook's algorithm tends to prioritise local news and interactions between friends and family over anything else, making it challenging for posts from business pages to be seen without having to splash cash to 'boost' them.   It means that it's now more important than ever to get your creative juices flowing and try some different ways to get your messages in front of your social audience.  Facebook Stories are a great way to in helping your business pages gain some extra visibility.
Facebook Posts will remain permanently on your feed (unless you delete them), so they are great for informative posts that you can keep adding to, allowing you to build up a bank of useful information, inspiration and engaging topics for your audience to easily tap into anytime they like.  They are also a great way of getting your followers to engage with your business, asking them for feedback, comments and discussion.  However, creativity with posts is slightly limited which is where Stories come into their own.  With Facebook Stories you are able to add filters and affects to images, photographs, or videos all on your phone
What are Facebook Stories?
Stories are short video content which disappears after 24 hours.  They are the most 'real time' way of connecting with your followers, as their 24-hour display limit means all stories are of current events, happening at the time of posting.  It's a powerful tactic in conveying your message in a more creative way and grabbing the attention of your audience before they move onto the next story – you can even show what's going on behind the scenes of your business and allow followers to get to know the people behind your business in the most natural way possible.   Due to the nature of stories, you can only upload one via mobile rather than desktop.   In a nutshell, stories are more personal and less formal than the average picture and comment that you would place in a post.  While we tell stories on our feed as well, uploading to the story feature needs a slightly different approach.  You should use it to literally tell your company story, whether it's a quick word of encouragement or a visual depiction of a team member exerting fantastic brand values.
How to post a story on Facebook business page
This handy graphic taken from Reshift Media is a great summary in things to consider before adding to your Story: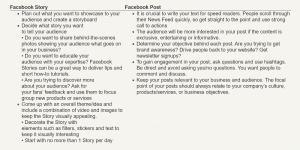 Why do I need a Facebook business page story?
Talk to who you want, when you want.  Stories allow businesses to directly share specific content with specific followers of their Business Page.  Plus, Stories are only visible for 24 hours, after which they disappear forever.  So, if you are adding a story about a limited time offer or upcoming sale you won't have the worry about adding expiry dates or deleting out of date posts.
Show customers the human side of your business.  Stories will allow you to show customers your business is full of real, genuine human beings and that you are not just a detached, faceless brand, allowing you to post more relatable content.  Want to show your audience what happens behind closed doors?  Take them on a behind the scenes tour, show them what you are up to and what is happening in real time.
Guaranteed to be seen by your audience.
Updates have a shelf life in the News Feed, depending upon how many people and businesses your audience follows, which means if users aren't on Facebook when you post your update, it may not be seen.  With Stories, your story will be visible at the top of their News Feed once they log on, regardless of when you post it.  The result?  Guaranteed visibility.
Ultimately, adding to your Facebook Story a couple of times a week provides another space for your content to live, which means more ways for your audience to see your brand.  You can also use Stories to shine a light on certain posts on your page.  The Bells team are not just financial experts, we are also part of a great local business network where we have access to a great hub of knowledge.  So, if you need help with any elements of your business, please ask us.